Please email requests to be on our team to info@gritpack.com

The Grit Pack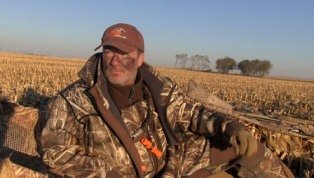 Teddy Carr, Owner
Native Virginian who founded Outdoor Action with Teddy Carr™ one of the largest freshwater fishing and waterfowl guide services in the eastern United States. A graduate from Orange County High School where he excelled in football and lunch. Married his high school sweetheart Donna and settled in downtown Locust Grove. They have three children Jon, Justin, and Taylor.
Favorite duck-Canvasback
Dog- Zembie
Favorite song-Amazing Grace sung by his daughter Taylor (makes him cry every time)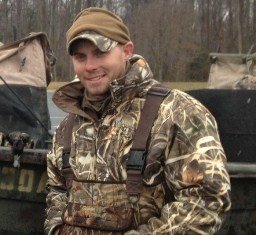 Jon Carr, Owner
Teddy's oldest son Jon grew up following in the footsteps of his dad chasing fowl across Virginia. Jon is the driving creative force behind the Pack he plots and plans in that head of his 24/7. Jon in the winter of 2009 put down his shotgun and picked up an M-16 to serve his country in the fight against global terrorism for his country as a United States Marine. He has served in two combat tours supporting Operation Enduring Freedom and one forwardly deployed tour to the South Pacific Theater. Jon Has now returned to the Pack.
Favorite duck-Wood-Duck
Dog-Nellie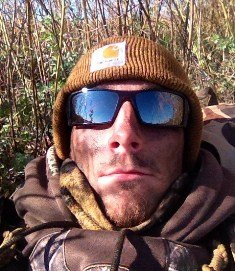 Justin Carr, Owner (nickname, Juck)
Justin is Teddy's youngest son he also grew up in the duck blind with his dad and brother Jon. Justin was the first in his family to go to a 4-year university, he is a graduate of Radford University. Justin is the workhorse of the Pack, he is cameraman, video producer, editor, call maker, dog trainer, guide, etc. you name it he does it. He is definitely the man when it comes to running our field goose hunts. No one puts goose calling together with reading a flock of geese like he does. He currently resides with his girlfriend Brooke and little Berry near Lake Anna, VA.
Favorite duck-American Wigeon
Dogs-Dixie and Berry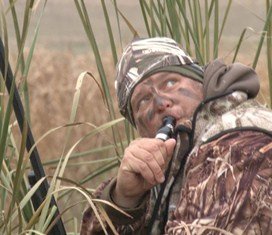 Tom Toews (nickname, Fat Tony)
Tom started his waterfowling in the Pacific flyway in the state of Oregon. Tom performs a lot of the construction and maintenance on the Pack's blinds especially when it comes to brushing up the blinds. He also maintains a lot of the gear as well as working in the call shop and is one of our cameramen. Tom is a dedicated family man, his wife Belinda is from the west coast as well and they have three lovely children Cody, Corey, and Courtney.
Favorite duck -Mallard
Dog-Patton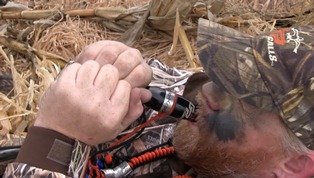 Ed Dustin
Big Ed is our tool man he has every tool under the sun and if he doesn't have it they don't make it. Together with Tom they handle the lion's share of duck blind construction. Ed owns a very successful masonry business (Potomac Masonry) that he started in 2001. Ed and his beautiful family (wife Jane, and kids Bryce, Peyton, and Ashton) call Fredericksburg, Va. their home. Ed's idea of the perfect afternoon is kicking back with his family and friends and pounding some Maryland blue crabs.
Favorite Duck-Blackhead (Scaup)
Dog-Gunnar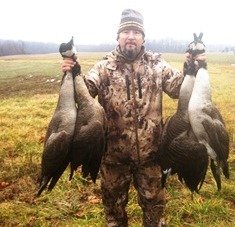 Todd Neale
Todd is our lifeline when it comes to keeping our duck boats running, he owns one of the busiest and most successful boat repair shops in the Mid-Atlantic "Sportsman's Marine". Todd also joins Juck in running the second of our two goose rigs. Todd, his wife Tricia, and young'ins Clay and Kaidyn make Warrenton, Va. their home. On a side note Todd is a direct descendant of General Stone Wall Jackson.
Favorite Duck-Pintail
Dog-Gunner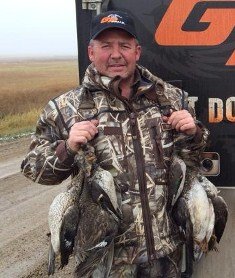 Duane Adams
Duane is our turkey specialist and the logistics man for our waterfowl team. Duane and his family (wife Susan quite the huntress herself, Dakota, and Tyler) make their home on the shores of Lake Anna, Va. They attend New Life Community Church where they are members. Duane has worked for Aflac for 32-years, he was born and raised in WV and lives and dies by Mountaineer Football.
Favorite Duck-Wood Duck
Dog: Duke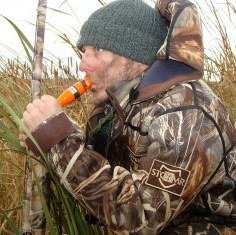 Timmy Talley
The Talley and the Carr families have deep ties. Timmy helps with the hunts and is also one of the cameramen. Timmy is a Virginia Tech Grad where he majored in engineering and currently works at the North Anna Power Plant. He enjoys hunting with his dog Hallie and watching her work. Timmy and his wife Kasey make their home in Louisa Va. near Lake Anna.
Favorite Duck-Mallard
Dog-Hallie
Pro-Staff
Rich Barone-Pennsylvania
Rich began waterfowl hunting his senior year in high-school, before that he was a die hard archery guy. His friends turned him onto waterfowl hunting and its been his passion ever since. Rich spends a lot of his time hunting the farm country of Pennsylvania and the coastal marshes of New Jersey and the Delaware River. Rich runs a group called Fully Committed Waterfowlers and guides for Drakes Waterfowl Guide Service out of New Jersey. Rich is a competition caller for GP Calls. His calls of choice are the Mo-Krackin goose call and the Tru-Grit duck call.

Travis Stauch-Virginia
Travis grew up hunting the Potomac River. Travis is part owner of River Dog Guide Service and is the Co-President of Big Oak Hunt Club located in Delaware. Travis is a competition caller for GP Calls. His calls of choice are Big Hurt goose call and the Trickster duck call.
Cody Dent-Virginia
The Dent's and Carr's go back a long way both family's plying their trades for 30 plus years on the Tidal Potomac. Cody near as I can tell was born in a duck blind. He is dedicated to his craft and spends most of his time on the Tidal Potomac, eastern swamps and the central Virginia farmland. He is also one of our competition callers. His favorite calls are the Trickster and Mo-Krackin.

Zane Rutt-Maryland
Zane grew up hunting the swamps of Pennsylvania and the Eastern Shore. He now guides for Big Oak Hunt Club in Delaware. Zane is competition caller for GP Calls. His calls of choice are the Mo-Krackin goose call and the Trickster duck call.
Joey Sugg-North Carolina
Joey's grandfather got him started waterfowling at age 8, and has been at it for 3/4 of his life. Joey hunts in the very storied area of the eastern part of NC. He has been a guide for B&B Waterfowl for 17-years. Joey is a contest caller for GP Calls and his favorite call is the Tru-Grit.
T. Lincoln Bridgers II-North Carolina
Lincoln is a grinder he has been at this game for 35-years. He currently guides for B&B Waterfowl and has been in their stable for 17-years. Lincoln enjoys teaching folks about waterfowling and sharing his many experiences.

Aaron Gieseke-Georgia

Aaron used to be a die hard deer hunter till a high school friend took him goose hunting. They spent their time hunting the farm country of PA right up to the moment he joined the Army. He now resides in Liberty County GA where he hunts flooded timber, small potholes, as well as out on the coast. His favorite duck is the wood-duck.
Derek Owen-Illinois
Derek was introduced to waterfowling at a young age by his father, Derek remembers his first job was to be the retriever. His dad would place him on top of the pit and when Derek's legs quit swinging he knew the birds were coming. Derek started guiding when he was 15 and has appeared in Mossy Oak Whistling Wings 11 and Mossy Oak American Hunter. Derek currently manages 1200 acres of waterfowl property and makes his home there in southern Illinois with his wife Sandy and their 3 daughters.
Dustin Duckworth-New Jersey
Dustin began his hunting in northeast New Jersey for deer and small game. Then one day he stumbled across a goose call and that was it he was hooked on goose calling and goose hunting. His passion is spending time with his family and friends in the blind. His favorite duck call is the Trickster and his favorite goose call is the Mo-Krackin every time all the time.
Luke Schneider-Kansas
Luke grew up hunting the Susquehanna River, he and his buddies concentrated on Canada geese. They would take the occasional duck while chasing the longnecks. It wasn't till he went off to college in Manhattan, Kansas that he finally saw the duck hunting light. Now its ducks 24/7 and not just any old ducks, Luke takes full advantage of the large population of greenheads that Kansas is noted for.

Field-Staff

Roby Schlesner-Wisconsin

Roby grew up in Jefferson, WI in a very outdoor loving family. When he was 9-years old his dad took Roby and his brother out for an evening duck hunt. That was it he was hooked, watching a group of mallards cupped up falling from the heavens, is a memory he will never forget. Since that moment he has been dedicated to the work and the success of the hunt. Roby brings those same traits to GP Calls.

Big Dave Moore- Delaware

Dave is one of those old salty Eastern Shore guys doing it the old school way. He is the Co-Founder of Big Oak Hunting Club in Delaware. He runs the day to day goose hunting operations for the club. He also guide for snow geese in the spring. Dave runs both the Mo-Krackin and the Big Hurt.
Little Dave Moore-Delaware
Little Dave is part of the one two punch along with his dad for Big Oak Hunting Club in Delaware. Where his dad is old school, Little Dave brings that new faster and complex calling routine, and they complement each other very well. Little Dave is constantly looking for every little advantage from decoy placement to new calling techniques. Little Dave like most of the young guns out there loves the Mo-Krackin.

Brandon Edwards -Virginia
Brandon is a grinder from field hunting for longnecks to wading through the swamps of eastern Virginia for puddle ducks. He's constantly working on his craft, never settling for average. His calls of choice are the Mo-Krackin and the Trickster.
Remington Rowe-Wisconsin
Remington is the owner and purveyor of Wild Eyed waterfowl. Remington is very versatile finding success in Wisconsin in the field for ducks and geese as well as in the swamps and small ponds.